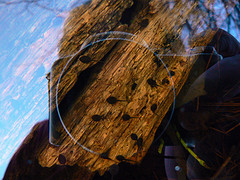 The tadpole (or polliwog) is an aquatic amphibian in the larval stage of a frog or toad. They usually have dorsal or fin like limbs and a tail for moving around water. They eventually grow arms and legs (legs usually first) during the transition into adulthood. In the case of frogs, the tadpole's tail is absorbed by means of apoptosis. During the tadpole stage of the amphibian's growth, respiration is achieved by means of external or internal gills, similar to fish. During the phase of metamorphosis (as well as arms and legs growing) lungs start to develop. Due to this, tadpoles are usually found closer to the surface of the water during the late stages of its transition in order to breathe air. The mouth of the amphibian also changes from a small mouth at the front of the head to one the same width of the animal's head. The intestines then shorten in order to adjust for the animal's new diet.
Most of the time, tadpoles tend to be herbivorous. In their natural habitat they feed on algae and plants. Some species of tadpole, however, are omnivores and feed on detritus and other, smaller tadpoles.
Generally, at a younger age, tadpoles tend to feed on green, leaf like substances. Small pieces of lettuce and spinach would be sufficient feeding for a younger tadpole, however these should be boiled first to soften them and cut into very fine pieces in order to make them easier to eat. The amount given to the tadpole is variable depending upon the tadpole itself and the number of tadpoles apparent. The objective is to give enough food to sufficiently maintain the tadpoles without giving so much that the food is left over and may discolour the water.
At a certain age tadpoles do become carnivorous and, if no other source of food is available, will feed on each other. This is around the time the tadpoles develop hind legs. At this point a live protein based diet should replace the previous, all-plant, diet. Aphids, mealworms or bloodworms would be sufficient feed at this stage. The amphibian would then continue to feed on live insects.