An Australian Shepherd Jack Russell mix will have combination of characteristics from the Jack Russell breed and Australian Shepherd, although appearance can vary greatly depending on the percentage of each breed in the parents.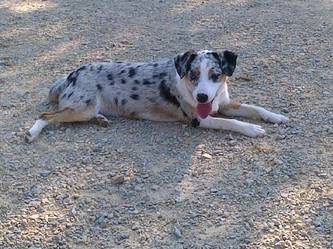 That being said, there are some general characteristics which you can assume to be present in an Australian Shepherd Jack Russell Mix, including the following:
The hunting characteristics of the Jack Russell
The trainability of Australian Shepherd
Multi-tonal fur, often prominent in the form of spots or patches
The Australian Shepherd Jack Russell mix will often have rather large and floppy ears.
The breed is more likely to suffer from health issues of both Jack Russells and Australian Shepherds, including hip dysplasia, thyroid issues, lens luxation, and hernias.
It's difficult to describe the physical features of an Australian Shepherd Jack Russell mix, not least due to the fact that individual dogs will have a different percentage of each breed within them.
But ultimately, this particular mix of breeds is likely to produce a dog that is fairly easy to train and has a natural hunting instinct.